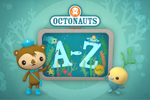 I helped produce the "Octonauts Creature A-Z Song" while we were working on season 4 of the series. It was an awesome, if challenging experience, and we were very happy with the results.
Apparently, everyone else seems to like it as well, because it now has over one million views on YouTube! ***Update July 2016: Now over 3 million!***
I'm very happy to see that so many kids like the song and want to learn more about the creatures in it. Everyone at Silvergate deserve a lot of credit for making this fantastic, especially Darren Hendley, our composer. Not to mention the voice of Shellington himself, Keith Wickham, who endured a grueling record to bring us this catchy tune. You can watch the A-Z song yourself and try to sing along after the jump.