I a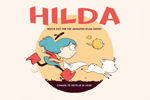 m very happy to share that Netflix has commissioned Hilda, a 13 part series that will be produced by Silvergate Media. I have been brought on as line producer for the series at Silvergate. The Hilda animated series is based on the graphic novels by Luke Pearson, with an anticipated 2018 premiere on Netflix.
The announcement from Netflix can be found here. For news, updates, and artwork from the series, please visit the official Facebook page. You can also find out more from the book publisher, Nobrow Press, and Luke was interviewed about Hilda for an article in The New Yorker magazine.
Please see the official announcement below Silvergate Media after the jump.